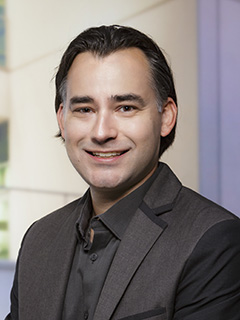 Christopher Lee Bennett
Associate Professor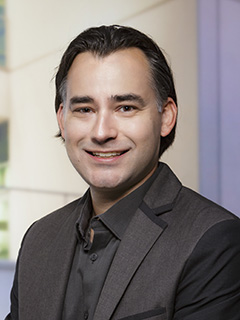 About Me
Quote
"Music and sound are foundational to the human experience, and at Frost our students learn both the creative and technical, the art and science, of music engineering."
Biography
Christopher L. Bennett, Ph.D. is Program Director and faculty within the Music Engineering Technology program at the Frost School of Music. He teaches classes in Acoustics, Psychoacoustics, Transducer Theory, Audio Signal Processing, and iOS Audio Programming. An avid researcher, Dr. Bennett is working with faculty and students on a funded inter-disciplinary research project in collaboration with the University of Miami Department of Physical Therapy and Miami VA Hospital, investigating the impact of patent pending auditory biofeedback technology to improve rehabilitation. He also collaborates on funded research with the University of Miami Miller School of Medicine investigating audible medical alarms in simulated clinical settings to improve patient outcomes. Other areas of research interest include the human auditory system and psychoacoustics.
In addition to his investigative and exploratory efforts, Dr. Bennett is an experienced entrepreneur. He is a founding partner of Oygo Sound LLC, an audio development and consulting company with prominent clients in music and signal processing.
Dr. Bennett is a full member of the Audio Engineering Society as well as other notable associations. He has been published in such prominent journals as the J. Acoustical Society of America, Anesthesia & Analgesia, and the J. Audio Engineering Society. He earned a Ph.D. in Biomedical Engineering, with a concentration in hearing science, a M.S. in Music Engineering Technology, and a B.S.E.E. in Audio Engineering.
Honors & Acknowledgements
PROFESSIONAL EXPERIENCE
Career Highlights
In 2020, he published Digital Audio Theory: A Practical Guide with Routledge Publishing

Working on a funded inter-disciplinary research project in collaboration with the University of Miami Department of Physical Therapy and Miami VA Hospital, investigating the impact of patent-pending auditory biofeedback technology to improve rehabilitation

Completed postdoctoral research at the University of Miami Miller School of Medicine investigating audible medical alarms in simulated clinical settings to improve patient outcomes

founding partner of Oygo Sound LLC, an audio development and consulting company with prominent clients in both the music and medical fields
Publications & Presentations
Bennett C, Gailey R, Agrawal V, Leider C (inventors); University of Miami (assignee). Method and system for adjusting audio signals based on motion deviation. World IP Office Patent Application No. PCT/US16/47426, filed 17 August 2016.

Bennett CL, Harris D, Tankanow A, and Twilley R, "Effects of oversampling on signal-to-noise ratio using swept sine analysis," Proceedings of the129th Audio Engineering Society Convention, San Francisco, CA, Paper #8232 (4 pgs.), October 2010.

Avissar D, Leider CN, Bennett CL, Gailey RS, "An audio game app using interactive movement sonification for targeted posture control," 135th Audio Engineering Society Convention, New York, NY, Poster P15, Oct 2013.

Bennett CL, Toft-Nielsen J, McCullough C, "Digital model of the passive James Baxandal l tonestack," 135th Audio Engineering Society Convention, New York, NY, e

-Brief #124, October 2013.

Ayers A, Rehrig R, Bennett CL, Leider, C, "PsychoMasker: An iOS application for

the visualization of psychoacoustic principles," 135th Audio Engineering Society Convention, New York, NY, e-Brief #127, October 2013.

Bennett CL, Mihajloski T, Ozdamar O, "Signal-to-noise ratio improvement of swept-

tone-generated transient otoacoustic emissions," Medical & Biological Engineering & Computing. Epub ahead of print, 10 pgs, 22 Apr 2016.

McNeer RR, Bennett CL, Dudaryk R, "Intraoperative noise increases perceived task

load and fatigue in anesthesiology residents: A simulation-based study," Anesthesia & Analgesia. 122:512-525, 2016.

Bennett CL, Dudaryk R, Ayers AL, McNeer RR, "Simulating environmental and psychological acoustic factors in the operating room," Acoustical Society of America, 138(6):3855-3863, 2015.

Bennett CL, McNeer R, "PT-SAFE: A software tool for development and annunciation of medical audible alarms,"Anesthesiology & Analgesia, 114(3): 576-83, 2012.

Bennett CL, Özdamar Ö,  "Swept-tone transient evoked otoacoustic emissions," Journal of the Acoustical Society of America, 128(4): 1833-1844, 2010.

Bennett CL, Özdamar Ö, "High-frequency TEOAE acquisition with auditory canal

compensated clicks using swept-tone analysis," Journal of the Acoustical Society of America, 127(4): 2410-19. 2010