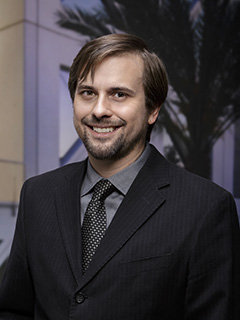 Gabriel John Beavers
Assoc. Professor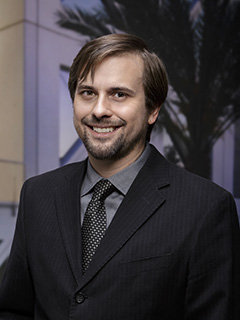 Biography
Quote
"I love sharing my knowledge and professional experience with students while helping them find their own path as bassoonists. I believe the FROST SCHOOL OF MUSIC equips students with a broad skill set that allows each student to pursue their passion."
Biography
Gabriel Beavers is the associate professor of bassoon at the FROST SCHOOL OF MUSIC. He also performs with the Nu-Deco ensemble and serves as 2nd bassoonist in the Music in the Mountains Festival Orchestra in Durango, Colorado.
Prior to joining the faculty of the FROST SCHOOL OF MUSIC, Professor Beavers served on the faculty of Louisiana State University School of Music and was principal bassoon with the Baton Rouge Symphony. Formerly a fellow with the New World Symphony, he was also principal bassoon with the Virginia Symphony, acting principal bassoon with the Malaysian Philharmonic Orchestra and the Jacksonville Symphony, and acting second bassoon with the Milwaukee Symphony for one season. Professor Beavers also previously held the position of visiting assistant professor at the University of Missouri-Columbia School of Music.
In addition to his orchestral activities, Professor Beavers maintains an active schedule of solo and chamber performances. He has appeared as a soloist with the Virginia Symphony, Baton Rouge Symphony, Henry Mancini Institute Orchestra, FROST Wind Ensemble, Ensemble Ibis, Chesapeake Bay Wind Ensemble, Greater Miami Symphonic Band, LSU Symphonic Winds and the Louisiana Sinfonietta. He has given recitals throughout the United States and at international wind and double reed festivals in England, Brazil and Japan.  Professor Beavers has also recorded two well-reviewed solo albums, A Quirky Dream and Gordon Jacob: Music for Bassoon, both of which are available on Mark Records. 
Professor Beavers received his BM from Boston University School of the Arts in 1999 and his MM from Southern Methodist University School of the Arts in 2001.
Honors & Acknowledgements
Professional Experience

Career Highlights
Associate professor of bassoon, FROST SCHOOL OF MUSIC, Fall 2013 – present 
Assistant professor of bassoon, Louisiana State University School of Music, 2007 – 2013 (Tenure and promotion to associate professor awarded spring 2013)
Member of Nu-Deco Ensemble, Miami, FL, 2014 – present, http://www.nu-deco.org
Principal bassoon, Baton Rouge Symphony, 2007 – 2013
2nd bassoon, Music In The Mountains, Durango, CO 2011 – present
Principal bassoon, (One year position) Virginia Symphony Orchestra, Norfolk, VA, 2006 – 2007 ICSOM Orchestra
Bassoon fellow, New World Symphony, Miami Beach, FL, 2003 – 2006
Acting principal bassoon, Jacksonville Symphony Orchestra, Fall 2005
Acting principal bassoon, Malaysian Philharmonic Orchestra, Kuala Lumpur, Malaysia, Summer 2004
Acting 2nd bassoon, Milwaukee Symphony Orchestra, 2002-2003 season
Visiting assistant professor of bassoon, University of Missouri-Columbia School of Music, 2001-2002
Substitute engagements with: Utah Symphony, New Jersey Symphony, Memphis Symphony, Alabama Symphony, Louisiana Philharmonic, Naples Philharmonic, Symphonia Boca Raton
Honors and Awards
Provost Research Award, University of Miami, 
Louisiana Division of the Arts Career Advancement Grant
Tiger Athletic Foundation Undergraduate Teaching Award (LSU)
Selected Recordings
A Quirky Dream, Gabriel Beavers, solo bassoon, Henry Mancini Institute Orchestra, Bergonzi String Quartet and friends, Mark Records, 2015
Weill – Ibert – Berg, Baton Rouge Symphony Chamber Players, Sono Luminus, 2012 (principal bassoon)
Dinos Constantinides Symphonic Music Live with the Louisiana Sinfonietta, Centaur Records, 2010 (Solo Bassoon)
Gordon Jacob: Music for Bassoon, Gabriel Beavers, solo bassoon, Mark Masters Recordings, 2009
Brahms Piano Concerto No. 1, Norman Krieger, piano, Joann Falletta, conductor, Virginia Symphony Orchestra, Artisie 4 Recordings, 2008 (principal bassoon)
Orff Carmina Burana, Jacksonville Symphony, Fabio Mechetti, conductor, 2006, published by Jacksonville Symphony Association (principal bassoon)