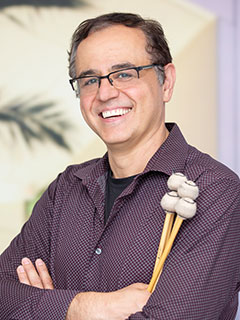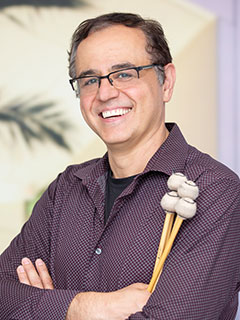 About Me
Jazz percussionist, composer, and music producer Errol Rackipov holds a Bachelor's degree from Berklee College of Music in Boston, MA, and a Master's degree from the University of Miami.

While in Berklee, he studied with the great vibraphonists Gary Burton and Ed Saindon. Along with his bands "Dream Hunter" and "Groove Culture," Errol Rackipov has performed throughout Europe and the United States with such greats as Terence Blanchard, Bob Moses, Herb Pomeroy, Marc Eagan, Kenny Werner, Ratzo Harris, and Paquito D'Rivera.
He has been working as a professional musician, composer, and producer in various styles of music from Jazz to R&B and has participated in numerous projects throughout the world. He was also a principal percussionist with "Miami Symphony Orchestra" and performed as a percussionist with "The Symphony of the Americas", "New World Symphony", "Boca Pops", "Sunshine Pops", "Palm Beach Pops" and many other Florida orchestras.

In 1996 his tune "Pictures from a train window" from the same title album won the "Jazziz" magazine "Percussionist on fire" competition.

As a leader of "Errol Rackipov Group," he has released 2 albums: "Pictures from a Train Window" (First Orbit Sounds Music) and "Distant Dreams" (Origin Records/OA2 Records) which were met with great critical acclaim by the media.

For more than 20 years Errol Rackipov was an adjunct faculty at Florida International University and Florida Memorial University and taught various classes from Evolution of Jazz and Music Appreciation to Jazz ensembles, Jazz Improvisation, Traditional Tonal Harmony, Music Technology, and Music Production.

Currently, Errol Rackipov is a professor at Broward College and the University of Miami.

Errol Rackipov's compositions, arrangements, and transcriptions are published by King Rak Music, Inc.