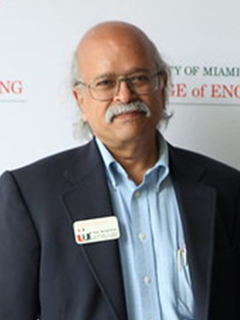 Ram Narasimhan, Ph.D.
Asst. Professor Prof. Practice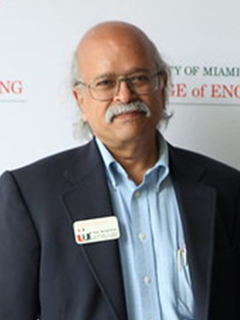 Dr. Ram Narasimhan is Assistant Dean for Engineering Advising and Undergraduate Studies in the College of Engineering. He also holds the position of Assistant Professor in Professional Practice in the Department of Mechanical and Aerospace Engineering. Dr. Narasimhan received his Bachelors degree from the University of Madras, in India, and his Master of Technology degree from the Indian Institute of Technology, Madras, India. He received his Ph.D. at the University of Miami. All of his degrees are in the field of Mechanical Engineering.
As the Assistant Dean of Advising and Undergraduate studies at the College of Engineering, his responsibilities include the management of the central advising system for fresh-men and sophomore students in engineering. In this capacity, he oversees adherence to both the Accreditation Board for Engineering and Technology (ABET) and University poli-cies, including the placement of students into appropriate coursework and monitoring of their academic progress. In addition to teaching the Introduction to Engineering course at the College, he has also taught a developmental Introduction to Engineering class for secondary school students for many years. His research interests are in energy and envi-ronment and engineering education.
Dr. Narasimhan also works closely with the senior administrative leadership including the dean and department chairs to coordinate student life, including interactions with other academic and administrative units. His work includes management of the recognition of engineering students at the College, University, and national levels. He also supervises the administration of scholarships and grants to engineering students.
Education
| | |
| --- | --- |
| 1988 | Ph.D. Mechanical Engineering, University of Miami |
| 1980 | M.S. Mechanical Engineering, M. Tech Indian Institute of Technology |
| 1978 | B.S. Mechanical Engineering, University of Madras |
Professional Experience
| | |
| --- | --- |
| 2010 - | Assistant Professor, University of Miami |
| 1998 - | Assistant Dean, University of Miami |
| 1994 - | Director of Advising, University of Miami |
| 1988 - 2010 | Research Assistant Professor, University of Miami |
| 1984 - 1996 | Director, University of Miami |
| 1982 - 1984 | Teaching Assistant, University of Miami |
| 1980 - 1983 | Research Assistant, University of Miami |
| 1977 - 1980 | Trainee Engineer, Lucas TVS Ltd |