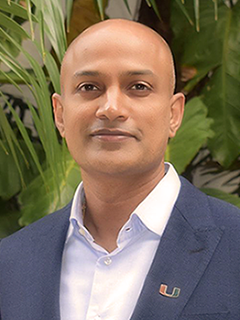 Harihara Prasad Natarajan
Assoc. Professor
Management
Academic Director, Global Executive MBA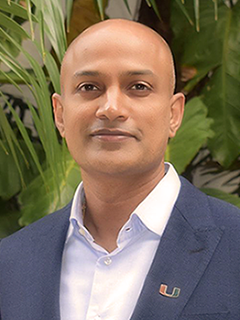 Education
| | |
| --- | --- |
| 2004 | Ph.D. Management Science and Operations Management, Industrial Engineering Pennsylvania State University |
| 2003 | M.S. Business Administration Pennsylvania State University |
| 1996 | B.Tech. Naval Architecture Indian Institute of Technology |
LIST OF SPECIALTIES: Operations and supply chain management | Design, analysis, and implementation of decision support systems | Mathematical programming and combinatorial methods
Professional Experience
| | |
| --- | --- |
| 2011 - | Associate Professor, Management, Miami Herbert Business School |
| 2004 - 2011 | Assistant Professor, Management, University of Miami School of Business Administration |
| 2003 - 2004 | Instructor, University of Miami School of Business Administration |
| 2002 - 2003 | Visiting Researcher, University of Texas |
| 1997 - 2002 | Instructor, Pennsylvania State University |
Honors & Acknowledgements
Best Paper in IIE Transactions Scheduling and Logistics, 2016
UM CIBER International Business Research Grant, 2012
James W. McLamore Research Grant in Business and Social Sciences, 2006, 2010
Penn State Alumni Association Doctoral Dissertation Award, 2002
Center for Supply Chain Research (CSCR) Graduate Research Award, 2002
LIST OF SPECIALTIES: Planning, coordination, and execution in supply chains,
Publications
With P. Bernales, Y. Guan, P. Souza, M. X. A. Tajes Less is More: Harnessing Product Substitution Information to Rationalize SKUs at Intcomex (Interfaces. Forthcoming).
With F. Fang, H. Gurnani Leadership, Dominance, and Preeminence in a Channel Structure with a Common Retailer (Decision Sciences. Forthcoming).
Review of Operations Planning — Mixed Integer Optimization Models 109-110 (46(1) Interfaces. 2016).
With A. Balakrishnan Designing Fee Tables for Retail Delivery Services by Third-party Logistics Providers 1261-1278 (46(12) IIE Transactions. 2014).
With A. Balakrishnan Optimal Integrated Procurement Planning for Multi-division firms 1795-1810 (23(10) Production and Operations Management. 2014).
With G. A. Meester, A. Mehrotra, and M. J. Seifert Optimal Configuration of a Service Delivery Network: An Application to a Financial Services Provider 725-741 (19(6) Production and Operations Management. 2010).
With Y. Akcay and S. H. Xu Joint Dynamic Pricing of Multiple Perishable Products under Consumer Choice 1345-1361 (56(8) Management Science. 2010).