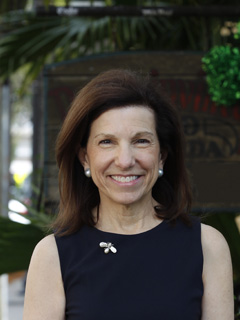 Joanna L. Lombard
Professor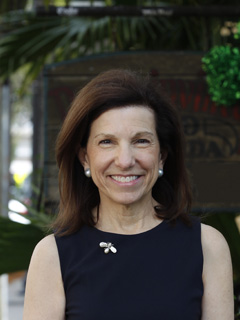 Joanna Lombard, AIA, LEED AP, is a registered architect (Florida) and Professor at the University of Miami School of Architecture with a joint appointment in the Department of Public Health Sciences at the Miller School of Medicine and is a 2019-2021 Abess Faculty Scholar in the Leonard and Jayne Abess Center for Ecosystem Science and Policy. She holds a Bachelor of Architecture from Tulane University and a Master of Architecture from Harvard University Graduate School of Design. A founding member of the UM Built-Environment Behavior & Health Research Group with funded projects in the area of neighborhood design and health, she investigates the impacts of greenness and greening initiatives. As author and co-author of articles, book chapters, and books, she contributed "The Landscape Design Principles of William Lyman Phillips in the First Heritage Parks," to Building Eden, The Beginning of Miami-Dade County's Visionary Park System, ed. by Rocco Ceo, which was the recipient of 2021 Florida Trust Award. She is co-leader of one of the eleven university-based teams selected as charter members of the American Institute of Architects Design & Health Research Consortium, and a member of the University of Miami U-LINK team exploring "Hyper-localism: Transforming the Paradigm for Climate Adaptation." She also works with colleagues in the national research and design collective, Practice Landscape founded in 2006 by Rosetta S. Elkin.

Service
National Recreation & Park Association, Board of Directors member: https://www.nrpa.org/About-National-Recreation-and-Park-Association/leadership/board-of-directors/
Health and Built Environment Committee, Consortium for a Healthier Miami-Dade: http://www.healthymiamidade.org/committees/health-and-the-built-environment/
Grove 2030 Parks Advisory Board: https://grove2030.org/
Tulane School of Architecture Board of Advisors: https://architecture.tulane.edu/about/board-members

Selected Recent Open-Access Journal, and Presentations
The Relationship of Neighborhood Greenness to Stroke/ Transient Ischemic Attack in 249,405 US Medicare Beneficiaries, Scott C Brown, William Aitken, Joanna Lombard, Kefeng Wang, Tatjana Rundek, Chuanhui Dong, Carolina M Gutierrez, Margaret M Byrne, Matthew Toro, Maria Nardi, Jack Kardys, Abraham K Parrish, Jose Szapocznik, originally published 11 Mar 2021 https://www.ahajournals.org/doi/10.1161/str.52.suppl_1.P631 Stroke. 2021;52:AP631
Panelist, Society for Prevention Research, 2020 Plenary Session I "Understanding Neighborhood Effects through Geography, Architecture, and Addiction Science," with co-panelists: Mei-Po Kwan, (University of Illinois), David Epstein, (NIH, NIDA), Chair: Michael Mason, (University of Tennessee, Knoxville)
Panelist, SxSW "Getting a Good Return on Our Health Investments,"
with co- panelists Jennifer Otten (University of Washington) and Atheendar Venkataramani (University of Pennsylvania), Moderator: Erin Hagan (Robert Wood Johnson Foundation), 10 March 2019
https://schedule.sxsw.com/2019/events/PP87850
One Water for a Culture of Health, with Scott Brown, Erin Hagan, Joanna Lombard, Maithili Ramachandran, May Lynn Tan, and Bruce Tonn, Originally posted on the US Water Alliance Blog , 7 November 2018.
Op-Ed w/Amy Clement: "In South Florida, we need to transform our communities to address climate change and sea-level rise," in "The Invading Sea," Miami Herald, 25 May 2018 https://www.miamiherald.com/opinion/op-ed/article211969859.html