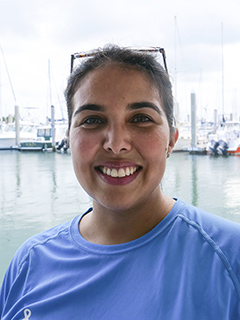 Liza Merly
Senior Lecturer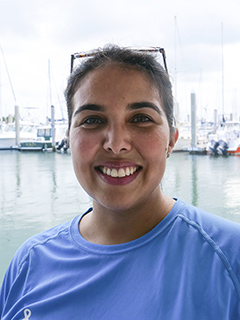 Senior Lecturer, Department of Marine Biology and Ecology—Rosenstiel School of Marine and Atmospheric Science
Liza Merly is a senior lecturer of Marine Biology and Ecology at the University of Miami's Rosenstiel School of Marine and Atmospheric Science.  She is interested in comparative immunology and marine biomedicine using diverse animal models.  She is interested in the use of the shark as a model for the evolution of the vertebrate immune system.  She is an affiliated faculty member of the Shark Research and Conservation program and conducts studies that use immune assessment tools in the evaluation of health and immunocompetence of wild sharks.
Laboratory Manager, RSMAS Undergraduate Program—Rosenstiel School of Marine and Atmospheric Science 
Merly is the laboratory manager for the RSMAS undergraduate program.  She manages the teaching labs on main campus in the Cox Science building as well as the supply of reagents, materials, and equipment for all lab-based and field-based hands-on training conducted as part of the Marine Science and Marine Biology courses. 
Teaching, Advising, and Service
Merly teaches an introductory course in marine biology, Life in the Sea (MSC 107), for non-science majors.  She also teaches Introduction to Marine Biology lab (MSC 232), Living Resources of the Ocean (MSC 310), Vertebrate Zoology (MSC 329), Marine Biomedicine, (MSC 462), Comparative Immunology and Lab (MSC 465 and 464), as well as Independent Readings classes (MSC 371) and Independent Research classes (MSC 411 and 412) for the RSMAS undergraduate program.  She serves as an academic advisor to students enrolled in the program.  She is the faculty advisor for the UM Aquarium Club.
She is also a member of the graduate faculty and supervises research projects conducted by graduate students in the Masters of Science (MS) and Masters of Professional Science (MPS) programs.
Merly also serves on several curriculum committees at UM.  She conducts outreach with community partners for STEM education in K-12th grades.
Education
| | |
| --- | --- |
| 1999 | B.S. Zoology/Animal Biology University of Florida |
| 2004 | M.S. Biological Sciences Florida International University |
| 2011 | Ph.D. Biological Sciences Florida International University |
Career Summary
Merly received her BS in Zoology with minors in Wildlife Conservation and Anthropology from the University of Florida and her Ph.D. in Biological Sciences from Florida International University.  She has a graduate certificate in comparative immunology and has been a member of the International Society for Developmental and Comparative Immunology and the American Association of Immunology since 2003.  She worked as a clinical instructor and laboratory manager in the School of Public Health at Florida International University before joining the Rosenstiel School in 2013. 
Scientific Research
Merly conducts studies on the shark immune system and investigates phylogenetic relationships between various molecules of the innate immune system of sharks and other taxa.  She conducts laboratory studies investigating how to apply immune assessment tools such as serum protein analysis and biomarker assays to sharks caught as part of the shark tagging program with the Shark Research and Conservation program.  She collaborates with the Comparative Pathology laboratory at the University of Miami Miller School of Medicine to develop immunoassays specific to elasmobranchs that can help evaluate the health and condition of sharks.  Blood samples collected in the field during shark tagging encounters are processed by her students and then analyzed.  Species-specific reference ranges for various hematological and immune parameters are being established as part of this study. These studies are funded in part by the Disney Wildlife Conservation Fund.