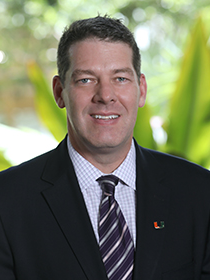 Michael Wilson
Senior Lecturer
Director of Entrepreneurship Programs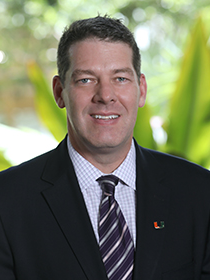 Biography
Michael D. Wilson, completed his Master's degree at the University of Chicago; undergraduate degree at the University of Massachusetts at Amherst; and is completing his Ph.D. in engineering at Purdue University. Mr. Wilson is the Faculty Director of Entrepreneurship programs in the Miami Herbert Business School (MBS), Wilson spearheads curriculum, the annual business plan competition, various summits, and University-Industry (U-I) relations.
Prior to academe, Michael founded several startup companies, consulted with many Fortune 500 companies and global brands. Wilson founded a large Internet Service Provider (ISP) backbone serving greater New England both connectivity and complex web development projects for over 1000 business-to-business customers.
As the resident "Pracademic" for the University of Miami, Wilson bridges U-I relations through commercial applications whether spin-in or spin-out opportunities. An expertise in technology as a catalyst for entrepreneurial ventures and engineering education; hands-on advising with cognitive frameworks and careful attention to deal/growth strategy. Specialties: Project management, public speaking, new software development, digital and distributed platforms using high-end supply PLM/FPX tactics with idea brokering, c-level presenting, writing, big data analyzing, machine learning, and major advisory/board expertise.
Education
| | |
| --- | --- |
| (in progress) | Ph.D. Engineering Purdue University |
| | M.L.A. University of Chicago |
| | B.S. Management University of Massachusetts at Amherst |
Honors & Acknowledgements
Recipient of CPE 5,000.00 award to develop a new Master's class for the M.S. department in Mechanical and Industrial Engineering at the University of Massachusetts @ Amherst., 2017
Recipient of an "Innovation for Teaching Curriculum Award" by the Krannert Undergraduate Dean. In the amount of $10,000.00, Co-PI., 2015
"Grant Donation Recipient of two SMART Boards from Smart Technologies, Inc., in the amount of 50,000.00, PI., 2013
"National I-Corps Finalist for patent-pending algorithm, NSF, Washington, D.C., 2014
"SEED Grant Recipient for Innovation" by the Associate Dean of Research in the College of Technology in the amount of 10,000.00, Co-PI., 2013
Master Sommelier Certification I, IL, 2010
Guinness World Book Record Holder, 2003
Entrepreneur of the Year in the Pioneer Valley, MA, 1998
Publications
Wilson, M.D. and Fernandez, T. Making engineering education more entrepreneurial (Guest Editorial, JEEN. 2017).
Wilson, M.D. Forward reasoning and worked-examples: What silence, eye-gaze, and missteps tell us through problem solving coding stripes (ASEE, Columbus, OH (Abstract Accepted). 2017).
Wilson, M.D. An entrepreneurial mindset empowers engineering education research: How rigor can exist while embracing ambiguous research approaches (Last Word, PRISM (In Review). 2016).
Berger, E., Wilson, M.D. A laboratory study of student usage of workedexample videos to support problem solving (ASEE, New Orleans, LA. 2016).
Wilson, M.D., Summers, M., Gordon, J., Goris, T. SMART Technology Learning Tools: Analysis of Industry Leader Perceptions and Satisfaction 53-59 (14(1) Technology Interface International Journal. Fall/Winter 2013).