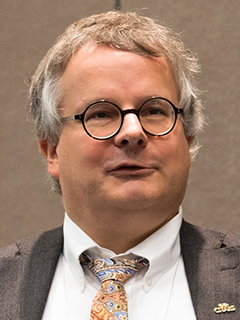 Roland Romeiser
Professor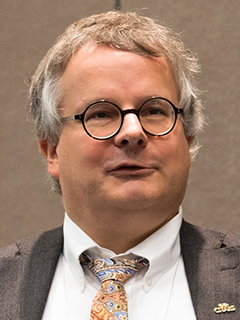 Professor, Department of Ocean Sciences - Rosenstiel School of Marine, Atmospheric, and Earth Science
Roland Romeiser is a Professor in the Ocean Sciences department at the University of Miami's Rosenstiel School of Marine, Atmospheric, and Earth Science. He is working in the field of ocean remote sensing by radar, with emphasis on the interpretation of images from conventional and interferometric synthetic aperture radar (SAR) systems on satellites with regard to signatures of ocean currents, waves, and atmospheric features over the ocean. In particular, Romeiser is one of the world's leading experts for surface current measurements by along-track SAR interferometry. He has published several pioneering papers in this field.
Romeiser teaches courses on ocean waves and on the physics of remote sensing, and he advises graduate students working with SAR images and data from other types of radar systems.
Career Summary
Romeiser received a degree in physics from the University of Bremen, Germany, in 1990 and a Dr.rer.nat. degree in geosciences from the University of Hamburg, Germany, in 1993. He continued to work at the Institute of Oceanography in Hamburg as a project scientist and became a permanent staff scientist in 1999. In 1998-1999 he spent a year at the Johns Hopkins University / Applied Physics Laboratory as a Feodor Lynen Fellow of the Alexander von Humboldt Foundation. In April 2008 he left Germany to become a faculty member at the Rosenstiel School. Romeiser has worked in the field of ocean remote sensing since the beginning of his career in the late 1980s. He has participated in numerous national (German / USA) and international research projects and experiments in this field and published more than 40 peer-reviewed papers in scientific journals. In Miami he works closely with the scientists and technicians of the Center for Southeastern Tropical Advanced Remote Sensing (CSTARS), the University's state-of-the-art receiving, processing, and archiving facility for data from a variety of remote sensing satellites.

Awards and Leadership Positions
Romeiser is a Senior Member of IEEE and an Associate Editor of the IEEE Journal of Oceanic Engineering. From 2014 to 2017, he was an Associate Editor of the IEEE Transactions on Geoscience and Remote Sensing as well. He has been an invited speaker and session organizer at many international conferences, and he has served on committees and science teams for the European Space Agency (ESA) and the German Aerospace Center (DLR). In 2014, he received a Best Reviewer Award from the IEEE Transactions on Geoscience and Remote Sensing. In 2017, he received the Outstanding Mentor Award from the students of RSMAS.
Romeiser is involved in a number of projects dealing with the development, improvement, and use of algorithms for retrieving information on ocean currents, waves, and atmospheric features over the ocean from satellite radar images. This work requires a comprehensive understanding of the physics of radar imaging mechanisms, instrument designs, and the processing techniques used to generate radar images from raw data. Most of the work is done on powerful computers and involves the development and use of specific data processing algorithms. Some of the projects include field experiments with ship and aircraft operations. Due to the international collaboration in the fields of satellite measurements and ocean studies, Romeiser travels a lot to meetings and conferences all over the world. The students working with him participate in all of these activities.