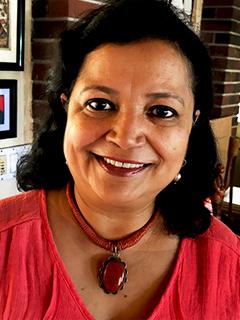 Sumita Chatterjee
Lecturer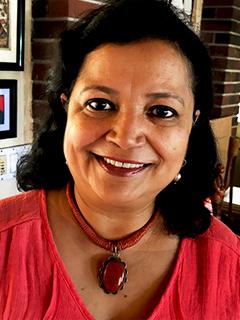 Sumita Dutt Chatterjee (listed as Dutt) specializes in modern India and the English speaking Caribbean, with focus on women's work, social, sexual and gender identities in the South Asian diaspora. She completed her M. A. and M.Phil in Modern Indian History from Jawaharlal Nehru University, New Delhi, India. She went on to complete her Ph.D from the University of Massachusetts at Amherst in the History of Latin America and the Caribbean. Her teaching interests include all periods of South Asian History, Politics of Gender and Sex in Modern India, Feminist Inquiries, Gandhian philosophy and political praxis, themes in the study of the global south particularly around issues of modernity, development discourse, globalization and gender. She has published articles on indentured Indian women's lives and labors in Trinidad and Guyana in the journal 
Himal – South Asia
, and in an edited anthology, 
Empire and Community: South Asians in Diaspora.
  Outside her area of specialization, she also co-authored with Arva Parks and Kathleen O'Connor, 
Florida's Third District Court Of Appeals: Balancing Justice.

 
She currently holds a dual appointment as lecturer in the Department of History and Women's and Gender Studies Program at the University of Miami.
Education
| | |
| --- | --- |
| 1997 | Ph.D. History of Latin America and the Caribbea, University of Massachusetts at Amhert |
LIST OF SPECIALTIES: Modern South Asia and the English speaking Caribbean; Gender; Globalization and Modernity in the Global South
Publications
Sumita Dutt Chatterjee Himal – South Asia
Sumita Dutt Chatterjee, Arva Parks and Kathleen O'Connor
Sumita Dutt Chatterjee Empire and Community: South Asians in Diaspora